Vintage Jim Morrison 8-Tracks (1973, 1976, 1978)
$350.00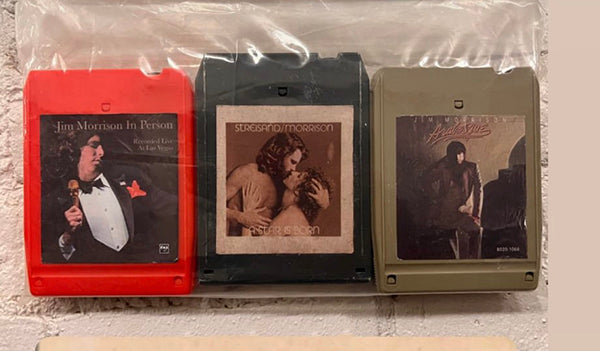 A "vintage" collection of three of Jim Morrison's 8-track tapes of the 1970s; Live in Las Vegas (1973), A Star Is Born (with Barbra Streisand, 1976), and Arabesque (1978), his dip into yacht rock.
These 3-D artifacts, aged to perfection, are a cohesive and chronologically accurate part of an alternate timeline, which split off from ours in 1955, thanks to timely (and legal) LSD therapy by none other than President Dwight D. Eisenhower himself. 

Jim lived.
Each piece measures approximately 4" by 5.25" by .875". Collection includes all three pieces.
Price includes all three pieces and shipping in the USA. Can ship beyond for an extra charge.