Ruby's Bar & Grill: original art of a Coney Island, Brooklyn classic
$550.00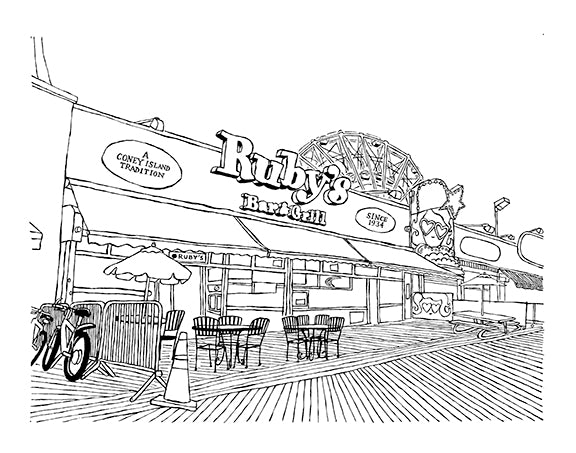 An original, one of a kind drawing of Ruby's Bar & Grill on Coney Island, one of the Great Good Places of New York.
This original art is featured in the book Bars, Taverns, and Dives New Yorkers Love by John Tebeau, published by Rizzoli, and you can buy it right here.
The drawing is 12" by 16", made with pen and black India ink on 14" by 18" 300-lb Fabriano cold press watercolor paper.
Ruby's is the oldest bar on the great Coney Island board walk, there since 1934, the year after prohibition finally ended. They sell cold Coney Island-made beer, sausages and burgers hot off the grill, and they open their entire front wall to the beach. What's not to love?
Will ship for free via first class US Mail, in a flat, sturdy package.