Bed-Vyne Brew of Bed-Stuy, Brooklyn: Original Art (ink on paper)
$500.00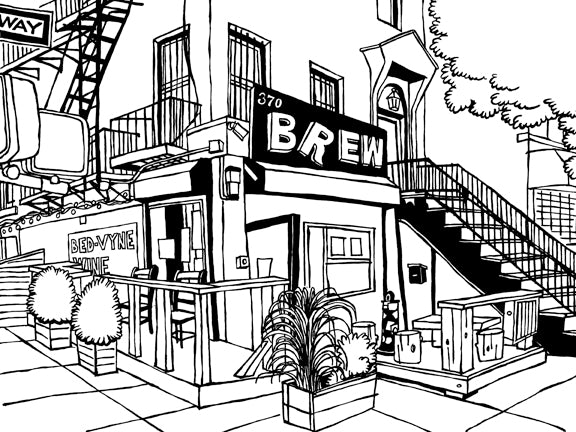 An original, one of a kind drawing of Bed-Vyne Brew of Bed-Stuy, Brooklyn, one of the Great Good Places of New York.
This art is featured in the book Bars, Taverns, and Dives New Yorkers Love by John Tebeau, published by Rizzoli in March, 2018.
Size is 11" by 14", drawn in pen and brush with black India ink on 300-pound Fabriano art paper.
Old-Brooklyn meets new-Brooklyn right here at a friendly little bar in a classic brownstone neighborhood: Bedford-Stuyvesant, aka Bed-Stuy. Bed-Vyne is quiet and peaceful in the daytime and hoppin' at night when DJs set the tone. All cozy, rustic wood at the bar inside, a sun-dappled deck out front, the perfect perch for a lazy Sunday afternoon, like your own Brooklyn stoop.
Will ship for free via first class US Mail, in a flat, sturdy mailer.